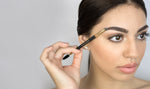 Eyebrow Maintenance at Home
Think you need an appointment at the salon for eye-catching brows? With the right eyebrow maintenance, you can get a natural makeup look without leaving the comfort of your own home. Brows don't have to be tricky. At Billion Dollar Brows, we make it easy to perfect the pluck and finesse the fill. We can teach you how to shape eyebrows at home so that you can feel amazing, even when you have nowhere to go.
Shaping Your Brows
Start by laying the foundation of your brows with an eyebrow shaping tool. Doing eyebrows at home can be tricky. Where should you start your lines? How high should your arches be? Where should you end your brows? This tool works to find the unique composition of your bone structure to give you symmetrical brows. Put the tool under your nose and move the arms in increments, marking as you go. Start with the natural beginning of your brows, then move to the arches, and finally mark the end of your eyebrows.
Next, a great pair of angled brow tweezers will help you clean up those pesky stragglers. Use a spoolie eyebrow brush to find your natural brow line by brushing the hairs up. Then, just pinch the unwanted hairs between the tweezers, press firmly, and quickly pull.
Getting your brows an even length is easy with a pair of quality, stainless steel brow scissors. Again, brush up your brow hairs, carefully put the scissors against your brow bone, and neatly trim any unwanted hairs one at a time. This is an important step in eyebrow maintenance, especially if you have thicker brows.
Achieving a Natural Look
Finding the right balance of color while doing your eyebrows at home is important. To do this, apply a tinted brow gel that features hair-like fibers that will stick to every hair and create fuller brows in seconds. Simply open the tube and gently swipe the brush across your brows. Use a spoolie to blend the product for an even more natural look.
A clear brow gel is also ideal for at-home eyebrow maintenance, no matter your hair color or skin tone. This is especially true if all you want is an everyday look that you can wear around the house.
Your Best Look
Eyebrows frame the face, convey emotions, and enhance beauty on every person. At Billion Dollar Brows, we want to celebrate your brows by providing the best in eyebrow makeup. We create professional-grade pomades, pencils, kits, and more, to help you to put your best brows forward!
Why Natural?
At Billion Dollar Brows, you get cruelty-free products and vegan brushes that you can feel good about adding to your collection, and we provide free shipping on select orders. We're committed to helping everyone find their own beauty with eyebrow maintenance. In a world full of trends, we're here to help you find your unique brows.
So, don't hesitate. Embrace the brow and feel beautiful while doing it!