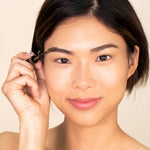 Brow Tips and Tricks from an Esthetician
Recently, we shared a post about maintaining brows from home and we're happy to add a set of recommendations from skincare expert, Niecy McCoy who is a licensed esthetician and manager at Beauty Bridge.

Here's Niecy's tips and tricks for healthy skin when plucking brows -

Always tweeze after showering 
Hair practically slides right out of the follicle.

Groom prior to tweezing
Before you touching a single strand of hair with tweezers, brush your brows. It helps you can see what you are doing.
Invest in new tweezers
Ditch the old tweezers. New tweezers are worth it and will save you time and frustration.

Plan your plucking 
Know what your brow plan is before you begin plucking - you need to have an idea of what the finished product should be. Random, pointless plucking should always be avoided.

Pluck outside the brow line
For the most natural brows, don't touch the middle hairs of your brow and tweeze only the hairs that are far outside the brow line. It never hurts to be too conservative.

Allow new growth to happen
Avoid trying to fix a mistake by plucking more and don't tweeze every time a new hair begins to appear. Instead try a concealer to hide the new growth until you are sure you don't want that hair. Truly, every single hair matters when it comes to brows. 

Never wax while using Retinol
Stick to tweezing, never wax, if you are using retinoid products. I find a lot of my clients use Retinol and it really makes the skin too sensitive; you don't want to risk skin tears and scarring damage.

Are you a brow babe with tips and tricks to share? Send us a message at social@billiondollarbrows.com and we'll reach out!