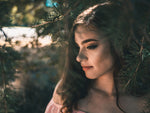 Cute (and Simple) Eye Makeup Looks That Are Perfect for the Holidays
The holiday season brings all sorts of events, even socially distanced. Just because we aren't celebrating like previous years doesn't mean we can't dress up! There's no better way to enhance your holidays than with cute eye makeup looks that will turn heads (even virtually!).
Keep reading to learn how to do these deceptively simple Christmas eye looks.
Dramatic Eyeliner
One of the easiest ways to up your makeup game is to rock some dramatic eyeliner. Skip the usual short flick and try out a bold new cat-eye. Line both your top and bottom lids with an inky black and extend it out as far as you want.
Finish off this look with some dark mascara and a neutral lip shade. The focus will all be on your eyes. Bonus points if your eyes are a light color—this will really make them pop!
Play with Color
Some of the best cute eye makeup looks play with color. Try a light blue eyeshadow over your entire lid up to your brow bone. Then use a
Smudge Brush
to add a darker hue into the crease of your eye. This icy simple Christmas eye look brings the beauty of winter to your lids.
For another cute and simple eye makeup idea, try a bold green eyeshadow. Nothing says "Christmas" quite like evergreens, so embrace these shades. Line your lower lashes with a dark emerald hue and then use our Vegan Eyeshadow Brush to layer a lighter color on your upper lid. Finish it off with a dark black eyeliner and mascara duo and you're ready to go.
Feeling like an even more dramatic yet cute eye makeup look? Incorporate red into your life! Try a thick line of red eyeliner or a glittery shade of shadow. You'll be feeling like Christmas incarnate in no time.
Embrace the Shimmer
Nothing says it's the holidays quite like shimmering lights. Why not steal some of that beauty for your eyes?
Add a subtle touch of glitter right beneath your eyebrows to draw attention to them. Use your favorite eyebrow products to fill in your brows and set them. Then stand back and let that shimmer do its work.
Don't forget about the many uses of Highlighter and Concealer in cute eye makeup looks. Use the highlighter at the inner corners of your eyes for a little extra sparkle. Dab the concealer underneath to hide any dark marks or circles. Your eyes will be brighter before you know it.
Use the same highlighter lightly on your cheeks for an all-over dewy vibe that will look stunning in photos or over Zoom.
Play Up Your Brows
Even if your eyebrows are a little sparse, they're an essential part of your cute yet simple eye makeup. Don't neglect them!
Snag our Ultimate Brow Bundle for everything you need to make your brows the focal point of your cute eye makeup looks. The Brow Buddy will help you find the perfect place to contour your brows. Then fill them in with our Universal Brow Pencil and lock them down with the Tinted Brow Gel.
What's the best eyebrow makeup to finish your look? Remember the Highlighter and Concealer trick from above? Blend a line of it just below your eyebrows for an instant lift. Now you've got a gorgeous foundation for your simple Christmas eye look.
Keep it Natural
If bold, dramatic colors aren't your thing, you can still achieve cute eye makeup looks with natural shades. Stick with a delicate peach on your lids. Match it to your blush and lipstick for a gentle, put-together look.
Or, embrace the beauty of the holidays with bronze hues. These tones often automatically come with a touch of glitter so you can make an understated statement. Start with a light bronze shade in the inner corners of your eyes and choose a darker one for the outer edges. This cute and simple eye makeup trick makes your eyes look bigger.
A Classic Smokey Eye
We'll start and end this list of cute eye makeup looks with classics. The smokey eye will never go out of style, and for good reason. It looks gorgeous on everyone and is a surprisingly simple Christmas eye look.
Use an eyeshadow brush to apply a mid-tone shade over your entire lid. Then line your eyes as close to the lash line as possible. Layer a darker tone shadow over the liner and use a smudge brush to blend it halfway up your lid.
Softly press the same brush into your lower lash line at the outer corners. Then use your fingers to smudge it out a bit. Finish with a few coats of dark mascara and you're now a professional at this cute eye makeup look!
Maximize Your Beauty Potential
At Billion Dollar Brows, we want everyone to know the joy of beautifully crafted, full eyebrows. We designed our cruelty-free products to help you do just that! So once your brows are lush and full and your eye makeup is set, share it with us! Tag and follow us on Instagram to show us your simple yet cute eye makeup.