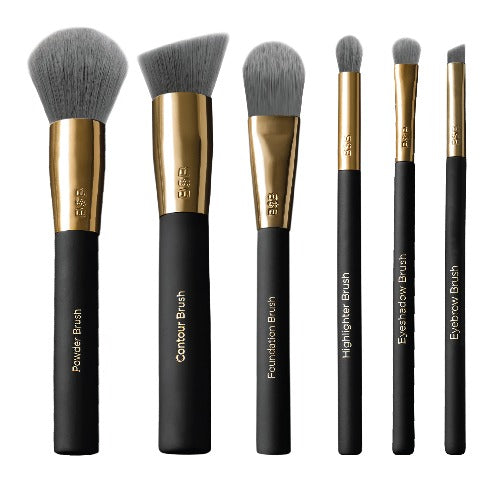 ❄︎ Holiday Sale! 20% Off at Checkout ❄︎
Description

How To Use

Product Ingredients
Foundation Brush
Densely packed, round bristles blend foundation for a smooth finish
Contour Brush
Blends, buffs, and diffuses any cream, liquid, or powder
Powder Brush
These ultra soft bristles apply any bronzer or blush with ease
Eyebrow Brush
The small angled brush applies powder or pomade to the eyebrow & the spoolie brush blends product effortlessly
Eyeshadow Brush
Soft bristles grab a controlled amount of eyeshadow to apply evenly across the eyelid
Highlighter Brush
Tapered bristles apply and blend highlighter to small areas of the face
Foundation Brush
Use gentle, fluid strokes to apply any liquid or cream foundation formula.
Contour Brush
Use upward, circular strokes to apply bronzer or finishing product.
Powder Brush
Use light sweeping motions all-over face to apply pressed or loose powder.
Eyebrow Brush
Use the small, angled brush to apply Brow Powder or Pomade.
Blend product and groom brows with the spoolie brush end.
Eyeshadow Brush
Apply eyeshadow by gently sweeping brush across the eyelid.
Use light back-and-forth motions to blend.
Highlighter Brush
For highlighter: Sweep highlighter powder across the tip of the nose, cheekbones, brow bones, and collarbones.
For eyeshadow: Using gentle back-and-forth strokes, diffuse and blend eyeshadow into the eyelid crease.
---
Free shipping on orders over $40